Travel Course: Your Travel Journal
---
I had been sustained by that delightful illusion of success which we all have when we dream about the books we are going to write instead of actually doing them. Now I was face to face with it, and suddenly I realized that I had committed my life and integrity so irrevocably to this struggle that I must conquer now or be destroyed. -- Thomas Wolf
---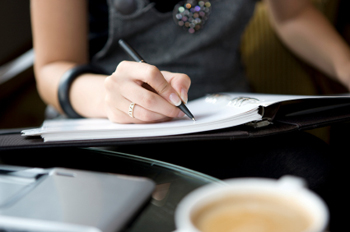 You are about to depart on the trip of a lifetime. Part of the fun of traveling is to relive what you have experienced. Besides your memory, the best way to do this is to keep a record of your travels and experiences.
Keep a journal. Here is where you record your experiences, impressions, ideas, thoughts, feelings, dreams, your Life List and future goals. You can include maps, diagrams, pictures, travel brochures and video to give your journal more depth.
There are many ways in which to record your experiences. Some of them are:
With a notebook/pad and pen


A digital voice recorder


A computer


You can use a traditional camera or a digital one


A digital camcorder

The best way for me is to have a small notepad and pen handy. I also carry a digital camcorder that works to shoot video, take pictures and it also works as a voice recorder. It's pretty much an all-in-one way to keep a journal and instead of having a lot of different recording devices, this single unit takes up a lot less room in my pack.

With a digital camcorder you can take as many pictures and video as you want. If the memory gets full just go to a cybercafe and download everything to the computer, then save it all on the internet. You can also purchase extra memory cards for even more memory, just in case you need it.

The advantages of a digital camcorder with picture taking abilities is that you have less to take with you, you can take as many pictures or video as you want and it doesn't cost anything to share them with all of your friends and family members. You can even choose your best images to have them printed and framed to hang on your wall.

You can post your journal content on your blog or website for the world to see. That way everyone can keep up to date with what you are doing. Plus they can post comments or send you email. Personal things can be saved to your email account.

Keeping a journal online is also an excellent way to update your website or blog to get more traffic and make more money while traveling.

Record in your journal every day, or every week. Usually the more often you post the better it will be. Down the road you'll be able to refer to your journal to refresh your memory and to see how you've changed. Once you are gone the whole world and even your grandchildren will be able to look over your journal for inspiration, information and to learn a little bit about what it was like to be you.
---

The key to immortality is first living a life worth remembering. -- Bruce Lee
---
Travel Course: General Safety