Travel Course: Automobiles
International Driving Permit
If you have a driver's license in your home country you qualify for an international driving permit. To get one you usually need to supply a photo of yourself, fill out a simple form and pay a small fee. The permit will allow you to legally drive in several countries around the world. This gives you the flexibility of buying or renting a car in a foreign country during your trip.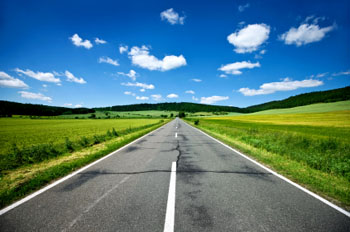 When you drive, you will need to have your original driver's license with you and your international driving permit. You may also need insurance and registration papers, depending on the specific laws of the countries you will be driving in.
Here are some websites where you can get an international driver's permit:
American Automobile Association (AAA)
International Driver's Licenses Sold Here
International Automobile Driver's Club
Before deciding to drive you'll want to make sure that it is something you'll be able to handle. In some countries traffic is well organized, while in others it is absolutely insane. Aggressive driving, small crowded streets, parking spots and fees, law violators, highway tolls, insurance costs and pedestrians blanketing the streets are all things to consider. Gasoline prices may be less than you are used to, or a lot more.
Despite the potential drawbacks, driving can be a great way to get off the tourist path to find those hidden, little-known gems and it can offer you more freedom.
Carpooling and Auto Clubs
If you will be traveling with others you can carpool together and split the costs. Depending on how many people are in your group, carpooling can pay off big dividends. If a car rental plus gas to your destination costs $200, and you have four people in your group, each person can pay $50 for a savings of $150 each. Sometimes carpooling can even be cheaper than taking the bus.
If you already have a car, you can find travelers who are willing to carpool with you. Staying at hostels is a great way to meet fellow travelers who would love to save on transportation costs. You can also post notes in travel forums and social networking sites asking for potential carpoolers and explaining the details of the trip.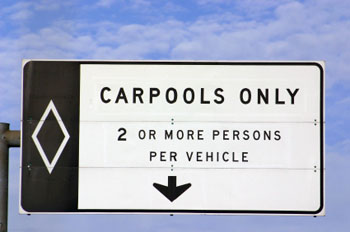 Of course, you might have a friend or family member that has a car who is willing to lend it to you, or to carpool with you.
Carpooling Websites:
It is a good idea to sign up with an automobile club if you are going to do a lot of driving. These clubs have excellent travel information, offer lots of discounts and can send out a rescue team if your car breaks down. One of the best auto clubs in the US is the American Automobile Association (AAA). Other clubs may be found with a Google search. A website for driving in Europe is the European International Road Signs.
Buying and Selling An Auto
Some travelers like to save money by purchasing a used car, truck or motorcycle to zip around in. After their travel tour they'll sell the vehicle to get some cash back for their next adventure. For long trips this method is usually far better than renting a car as it saves huge amounts of money. By buying and selling an automobile the traveler pays for gas and insurance and gets all or most of her money back when the vehicle is resold.
You can find used automobiles by keeping your eyes open on the streets and asking friends if they know of anyone selling a car. Look in the classified sections of newspapers and for used car dealers in the yellow pages. You can find used car deals around the world on eBay Motors and the Global Car Locator.
Government auctions are another possibility. Governments routinely have vehicles up for bid that have been seized for one reason or another. While government auctions have become more popular than in the past, there are still lots of opportunities to buy a vehicle at a heavily discounted price. You can do a Google search for government auctions in your area, or check out GovDeals.
Renting A Car
If you are on a budget and wish to rent a car then it is best to carpool. This way, renting cars becomes an affordable, viable option. Car rentals are available in all of the bigger cities, and many of the smaller ones, around the world.
Here are some things to consider when renting a car:
Book your car rental as early as possible and check all options available to you. You will want to check several sources for the best deal before making a decision
Ask the agency about drop-off charges. You can get charged extra if you drop off the car at a different location from where it was picked up
Check the gas policy, the late policy, the mileage policy and your insurance options. Check for hidden charges
A five day car rental may cost the same as a one week rental. So you might want to take the one week rental
Ask the agency about any special deals or discounts that they may have. You can also sign up for automobile clubs to receive discounts and offers
Try to make the car look as little like a rental as possible as thieves target these vehicles. Keep your items locked in the trunk
Car Rental Websites:
Drive-Away Companies
A drive-away company transports vehicles from point A to point B for vehicle owners who can't or are unwilling to do it themselves. The vehicle owner pays the company for the service, and the company compensates a driver for delivering the vehicle.
Compensation may come as free use of the vehicle, free gas, paid hotels and meals, as payment, or a combination of these. As a traveler you can take advantage of drive-away companies to travel for less, for free, or even to get paid for it.
To use drive-aways you will need to be at least 21, have a valid driver's license, a good driving record and you'll probably need to leave a cash deposit (this is refunded once you deliver the vehicle).
Mileage allowance and your route will be agreed upon by you and the company. Insurance, gas, delivery and compensation details should be worked out before you make an agreement.
You can use drive-away companies to get to a single destination, or if you have a flexible schedule you can tour the country by taking different vehicles to different drop-off points.
Drive-away companies may be found by Googling the terms "National Auto Transporters," "Drive-Away Companies" or "Auto Transport."
Websites:
Move Cars: The Internet Directory of Automobile Transporters
Taxis
Taxis can be expensive in many parts of the world, while in others you can get around the city with a few cents to a couple of dollars. Some cabs will charge you per person, while others charge a flat fee no matter how many people are riding (within reason of course).
It can be very convenient to take a taxi. The driver will take you right where you need to go, you won't have to worry about driving and navigating the streets, and you won't have to pay parking fees. Using a cab can be especially helpful if you get lost or if in a bad neighborhood at night.
When taxis are expensive try to avoid them. You can take city buses and subways, or the monorail. Don't use taxis for city to city travel unless you carpool to save money and/or time.
Many taxi drivers in foreign countries work independently simply by putting a sticker on the windshield that says "taxi". For security reasons you may wish to use taxis from a reputable company. These taxis are usually yellow. You might also want a friend or hotel manager to write down the license plate number of the taxi you are taking, just in case something does happen.
Always negotiate a price before getting into a taxi that does not have a standard meter. This helps to prevent arguments over the fare and being overcharged. Be careful in airports. Taxi drivers swarm all over travelers at airports.
Airport cabbies are notoriously known for overcharging for their services. If you can't get a fair price at the airport then walk outside of the airport and take a taxi from there. Also, don't pay the fare until after you have gotten out of the cab and have your backpack with you.
Travel Course: Buses and Subways