Travel Course: Bargaining
Bargain, bargain, bargain. In developing countries when some vendors see you, the "rich foreigner," they raise the prices of their merchandise or service substantially to make a profit off of tourist naivety. So bargain with them, it's usually expected.
Bargaining is especially expected in places like Guatemala, in fact, it's required. When you ask how much something costs they'll ask you how much you would like to pay! In cases like these you'll need to get familiar with the local prices to avoid getting ripped off.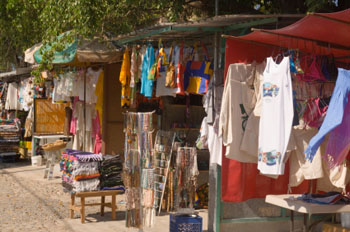 Markets usually don't have any prices listed. Take a look around town to get a feel for what things should cost, or ask a resident who isn't selling you something about prices. Taxi drivers can be very useful sources of information. Then you'll have a little knowledge.
Before buying something, or getting into that taxi that doesn't have a meter, ask for a much lower price than quoted. If they don't go for it up the price a little until you both settle on an agreement. If they still want too much money then look elsewhere.
Foreigners get overcharged all of the time. Bargaining isn't so much as a way of getting a discounted price on items as it is for getting a fair price for an item. Being overcharged for everything is the number one way that traveler's get scammed. You can get charged $20 or more for something that should cost a fair $1. It happens all the time.
So know the prices before you make a purchase. Have an idea of what hotels, taxis, buses, food and merchandise should cost for those times when prices aren't posted. Be very skeptical of all prices that are not clearly posted.
When you bargain, not only are you doing yourself a favor by avoiding overpriced items, but you can save a ton of money as well. Be fair with your purchases, but demand the same from the seller.
Travel Course: Clothing and Laundry