Travel Course: Buses and Subways
Intra-City Buses
City buses around the world are quit diverse. They range from very efficient machines to those that should have been impounded 20 years ago. The driver may drive like a mad-man to make a profit during rush hour. Some buses allow beggars, singers and salesmen to board. You could end up sitting next to a cage of chickens. Depending on where you are, an intra-city bus ride can be uneventful, or an adventurous experience.
In some countries you will need to wait at a designated bus-stop to be picked up. In others, a simple wave of the hand from any street corner will suffice. Usually the bus's destination is displayed on the front of the bus. Watch the locals to see how they get on and off of buses. This is important as the public transportation system could be very different from what you're used to.
Getting around the city by bus can save you a lot of money compared to using taxis and car rentals. However, in some countries taxis are so cheap and the bus system is so confusing that it might be worth it to take cabs.
Many government bus systems offer discount bus passes for days, weeks or a month at a time. If you will be in a city for a few days look into getting a bus pass as is could save you 50% off the normal fare.
Overland and International Buses
These buses travel to distant cities, different states or providences and even to different countries. Conditions and service vary greatly among bus agencies and regions of the world. Some are very efficient, while others are notoriously late with their schedules.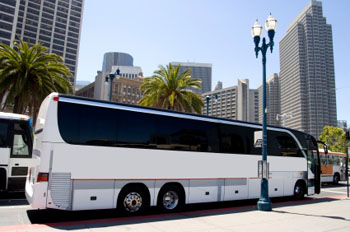 Some bus companies have a small room that serves as an agency with their buses picking up passengers right in front of the room entrance. Other companies have huge bus stations that rival some airports with lots of different bus and travel agencies, food services and entertainment.
With some companies you can buy your tickets online. For others, you will need to purchase tickets from a travel agency or directly from the bus company. You can find a listing of bus companies, and general prices, in your guide book.
Many times it is best to book your bus ticket in advance to make sure that you'll have a seat, especially during high tourist season. This may also save you some money. Sometimes discounts are offered for round-trip tickets.
The bus service you get will depend on the bus company you go with. Some bus companies offer a flat service for all passengers, while others have different classes of buses, much like airlines do. The company could have a dozen or so different classes, but there are generally three:
Economy-class is the cheapest way to go, but can be uncomfortable and will take longer to reach your destination.
Middle-class tickets cost a little bit more than the economy-class, but offer a smoother ride, usually a bathroom and arrive within a reasonable amount of time.
The most expensive bus tickets are the first-class rides that have bathrooms, movies, get you to your destination on time, are a lot more comfortable and may even serve food.
Before purchasing your ticket be sure to ask about the bus's route, travel times, stops, if there are bathrooms on the bus, if meals are served, travel times and restrictions. Get as much information as you reasonably can.
Websites:
Alternative Buses
Besides the buses that simply take you to your destination, there are several alternative choices.
Hop-on, hop-off buses allow you to get off the bus, and back on again at pre-determined stops. You buy your ticket for a certain number of days and are allowed to get on and off the bus whenever you want according to the bus's rout and schedule. This offers quit a bit more flexibility from the traditional inter-state buses.
There are also backpack/adventure type buses like the Green Tortoise. These take a group of people through different states, or even different countries. The bus is like a big RV with a bathroom, cooking facilities, a TV, a DVD player and movies, and other items of entertainment. Participants sleep on the bus or camp-out. The bus driver and tour guide take the group to some very interesting places along the way. These trips can last a week to several months.
Some of these alternative bus companies can get a bit pricey, while others offer great deals and unique experiences. Because many of them include accommodation, transportation, food, activities, site-seeing and tour guides in the total price, you can actually save a lot of money over taking the trip on your own. These buses are also a great way to meet fellow travelers.
Websites:
Subways
Cities that are well-developed have subway systems that can get you around town quickly and cheaply. You'll need to pay attention to subway maps to go in the right direction, which all subway stations have. Some subway cars have maps above the inside doors, and some travel guides also have subway maps.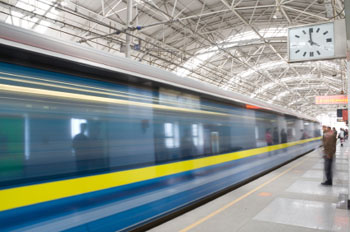 You will need to know which way is north, south, east and west on your map. If you find that you are going the wrong way, just get off and take another subway in the opposite direction. If you get confused, just ask a subway employee or a local for help.
Subway fares vary greatly from country to country. You will usually need to pay the fare before you board, although sometimes you will pay after you board. As with intra-city buses, many subways offer discounted tickets if you purchase for a whole day, a week, or a month at a time.
Websites:
Travel Course: Flights