Travel Course: Other Means Of Transportation
Biking
Traveling by bicycle is a cheap and unique way to see the world. There are no expensive repairs to make, no insurance and gas to buy. Besides it costing you almost zero, you also get into great shape. You can get to your destination faster than walking and you travel slow enough to see the landscape, people and cities you are passing by. There are people who travel around the world by bicycle. Biking is an ultra-cheap way to travel.
You can rent a bike once you arrive to your destination. Bike rental services can be found in your guidebook, at hostels and even at some bus and train stations.
Another option is to buy a bicycle and use it as your primary or only means of transportation. Choose your bike carefully. You'll want one that performs well and is comfortable. You will need to determine if you will be doing any camping and to bring the appropriate gear. You can put a rack on your bike to host your backpack and perhaps a sleeping bag.
When riding your bike assume that you are invisible. Assume that drivers won't see you so you'll practice safer biking. Use a good helmet and other appropriate safety equipment. Be sure to have a good lock for your bike and repair kits.
Sailing
Sailing the seven seas is an interesting way to travel. You could end up with rich preppy types of people, or find yourself amongst a group of pirates sneaking past the Coast Guard to deliver their goods. You can pay freighter companies for a ride, but unfortunately this can get expensive. Other options are to work on freighters to get to your destination, or to use other people's boats to hitch-hike your way around the world.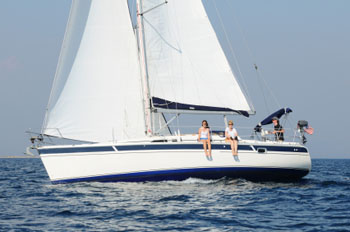 There are many companies and individuals who need an extra hand on their freighter or yacht. You can get free transportation, room and board for helping out, and you might even get paid for it. There are also people who are looking for company for their next sailing adventure.
Go to the city's port and ask around about rides. This is fairly common in Seattle, Washington. When someone wants a ride to Alaska and doesn't want to pay for it, he'll ask boat Captains heading that way for the fishing season for a ride. You can also search the forums at boating websites to find boat owners looking for help.
Internet Guide to Freighter Travel
Around the World Freighter Travel
Hitch-Hiking
It's getting harder to hitch-hike. It can also be one of the most dangerous means of transportation. Some drivers may not have your best interest in mind. In some countries hitch-hiking is illegal. It is almost always best not to hitch-hike, but it is still a viable option in certain parts of the world, and it's free.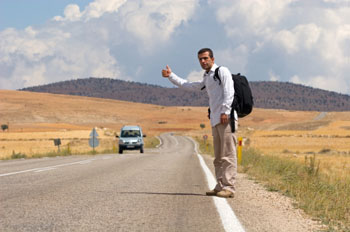 If you plan on hitch-hiking it is best to travel in pairs, a male-female team is best. Not only is it safer, but people are much more likely to pull over for a man and a woman than for two men. Two women hitch-hiking together are sure to get lots of rides, but it isn't as safe. Also, you will want to look like a decent human being rather than a psycho if you hope to get rides.
Be very patient when hitch-hiking as rides can be few and far between. Also be sure to know at least the working laws of hitch-hiking in the area you will be traveling in. It is best to stick your thumb out than to hold a sign up with your destination written on it. If a car stops and you don't feel right about the driver, you can ask him where he is going, then politely tell him that you're going somewhere else.
Try your thumb at intersections and other areas where drivers stop or have a chance to pull over. You can inquire at your hostel about hitch-hiking in the area and be sure to ask other hitch-hikers for advice.
Walking/Hiking
One of my favorite means of transportation is on my own two feet. By walking I'm not zipping past the landscape, I'm actually able to slow down and see where I'm going. I notice and learn more, and I have more opportunities to get into trouble. I become part of the location rather than seeing it pass by like on a television screen. While walking I am able to experience where I am. My wanderings take me to all kinds of interesting places that I didn't know were there. Then I get lost.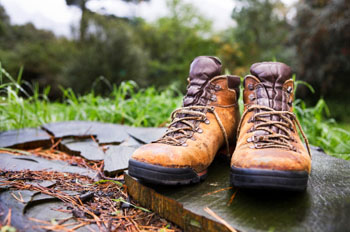 Some people go so far as to use walking as their only means of transportation during their entire trip. They are able to meet the local people, to learn more about the culture and to even become a part of it for a short time.
There are travelers who walk across entire continents. Peter Jenkins became famous after publishing his walking experiences in A Walk Across America. He has also written A Walk West, A Walk Across China and others. Although he now has the money to travel in style, he still prefers to walk without spending much money at all.
Adventure Walks and Travel Tips
And There's A Lot More...
Obviously this section of the Travel Course doesn't cover every means of transportation. There are several unique ways to get you where you want to go, some you've never even heard of before.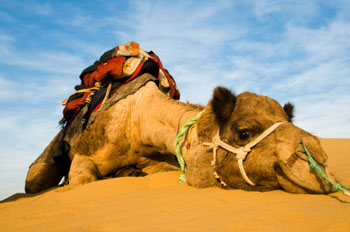 Ride a horse, camel or an elephant. Take a ride in a hot-air balloon or go hang-gliding. Hop on a trolley, buckle into a helicopter. Glide in a kayak or raft. You can even take that old canoe out of your garage, put it in the ocean and travel to foreign lands. Buy a motorcycle, a boat or a camper. Travel to space. And yes, these days even this is possible if you have a lot of money (but it is getting cheaper).
Use your imagination. The possibilities are endless. Take advantage of them.
Canoeing and Kayaking Associations
Beginner's Guide To Motorcycling
Travel Course: Camping